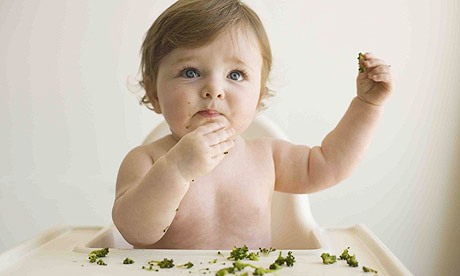 {Photo Source}
1.  Baby is about 6 months of age.  The intestines in a baby are their filtering system and they are quite immature when they are little.  Around 4-7 months, the intestines go through a "growth spurt" if you will, and their leaky gut closes up.  It actually creates a protective lining so it can be more selective about what it lets through into the bloodstream, and probably causing less allergies.
2.  Baby watches you eat enthusiastically.  You may notice that your baby is watching you eat.  You move your fork from plate to mouth and he watches the whole action.  He may even move his mouth like he is chewing or begin smacking his lips like the noises we make when we eat.
3.  Baby reaches for your food.  What is a better sign for solid food readiness than baby grabbing for your food?  He may grab your plate, utensils, or even take a piece of food from your hand or plate and bring it to his mouth.
4.  Baby can sit unassisted.  If baby can sit up right unassisted, then this is a great sign that he can begin eating solid foods.  Can you imagine trying to swallow while laying back in a bouncy seat?
5.  Baby no longer has the tongue thrust reflex.  The tongue thrust reflex is when baby sticks his tongue out every time something goes in.  You may have seen a baby start cereal before they are ready for solids and they will push all their cereal right back out of their mouth.  When this reflex is gone, they will know to actually use their teeth or gums to chew.
At this age, eating solids isn't a necessity for nutrition because breastmilk (and most substitutes) provide complete nutrition for the first year of a child's life.  The main objective is social and  motor development while learning to manuever solid foods and be included at family meal time.
Follow your baby cues and your instincts during this exciting and messy time.